Ferrari's automated manual gearbox was called "Selespeed" internally, but Maranello opted to sell it under the name "F1" for marketing reasons. Interestingly, when its technology was transferred to sister company Alfa Romeo, so was the name Selespeed. The first Alfa model using this gearbox was 156 Selespeed, debuted in 1999. It was also the first application of automated manual on mainstream production cars.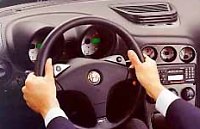 The Selespeed was quite intelligent. If the driver engage more than 60% throttle travel and shift at above 5000 rpm, the computer would select Sport mode automatically. If the driver select City mode, it would simulate a full automatic.
Like the unit of F355 F1, the Selespeed was derived from the regular 5-speed manual serving other 156 models but added with an electrohydraulic gearchange actuator and an electronic-conrolled clutch. Its operation was mostly the same as Ferrari's, but the gearshift was controlled by two buttons located at the steering wheel instead of column-mounted paddles (later version on Alfa 147 turned to paddles). Its gearshift was not as fast as Ferrari's, of course, normally taking 1 to 1.5 seconds. Even in Sport mode it still took some 700ms, so keen drivers had better to opt for the regular manual gearbox.
Reference: https://www.autozine.org/technical_school/gearbox/Gearbox_Manual.html